Satsuma Chicken
Before you order takeout, use this incredible orange chicken recipe to satisfy your craving. Sweet satsumas bring a southern twist to this classic Chinese dish that the whole family will love!

Prep time: 20 minutes
Cook time: 15 minutes
Total time: 35 minutes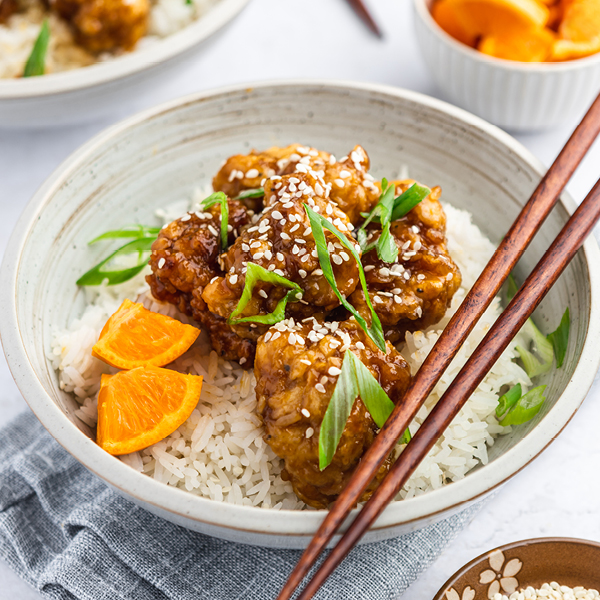 Sauce:
Garnish: sesame seeds, green onions
Directions:
Cut chicken into 1-inch cubes.
In a medium bowl, mix flour, cornstarch, salt, pepper, and garlic powder.
In a separate bowl, add the egg, and water, whisking until smooth.
Add the chicken cubes to the egg mixture in small batches and coat thoroughly. Then, dredge in the seasoned flour.
In a medium saucepan or deep fryer, add 2 inches of oil and heat to 350˚F (177˚C). Line a plate with paper towels and set it aside.
Add the marinated chicken cubes in batches of about 10-15 pieces, shaking off excess batter if needed. Deep fry for 2-3 minutes until golden, turning halfway through with a slotted spoon for even browning.
Remove to the plate and keep warm while you make the sauce.
To a medium saucepan, add orange juice, orange zest, soy sauce, vinegar, brown sugar, sesame oil, ginger, and garlic.
Place the saucepan over medium heat and bring to a low boil. Carefully taste a few drops and adjust sugar, soy sauce and vinegar to suit your preference.
Mix the cornstarch and water in a cup to make a slurry and pour into the sauce. Stir constantly until the sauce coats the back of a spoon. (This can take as little as 30 seconds or as long as several minutes.)
Add the fried chicken and toss until the sauce coats it thoroughly.
Garnish with optional sesame seeds and green onions. Serve immediately.

Make it gluten-free: Substitute gluten-free flour and gluten-free soy sauce or coconut aminos.