Satsuma Vanilla Bean Cheesecake
Sweet satsumas bring a delectable tanginess to this classic creamy dessert. Make it for a get together or spoil yourself!

Prep time: 20 minutes
Cook time: 1 hour 20 minutes
Total time: 1 hour 40 minutes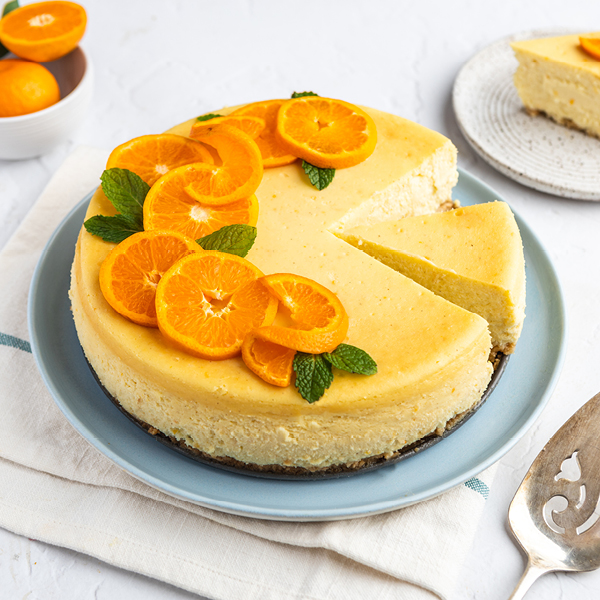 Directions:
Preheat the oven to 325° F. Butter or spray a 10-inch springform pan with cooking spray. Cover the bottom of the pan with aluminum foil to keep water from seeping in.
Place the cookies in the bowl of a food processor and process until finely crumbled.
Drizzle in the melted butter and toss together until combined.
Press the mixture into the bottom of the prepared pan. Bake for 10-12 minutes, then set aside.
Place the cream cheese, sugar, satsuma zest and in a large mixing bowl and mix on medium-low speed until smooth.
Add the eggs, one at a time, scraping the bottom and sides of the bowl after each addition.
Add the cream, satsuma juice, vanilla bean paste, and vanilla extract, and stir to combine.
Pour the batter over the crust and tap sharply on the counter a few times to release any air bubbles.
Place the pan in a larger baking dish and pour very hot water ¾ of the way up the sides of the pan.
Bake the cheesecake for 60 - 80 minutes until the center is still slightly jiggly.
Turn off the oven, leave the door slightly ajar, and allow the cheesecake to cool for one hour.
Remove the cheesecake from the oven and cool completely at room temperature.
Chill in the refrigerator until ready to serve.
Garnish with satsuma slices and serve.